The Tunis Project is a 43 MW gas-fired enhanced combined-cycle generating facility located in Iroquois Falls, Ontario adjacent to the TransCanada Mainline. The Project commenced commercial operation in 1995, but is not currently operating, as its PPA expired in 2014. Atlantic Power indirectly owns 100% of the Project.
Tunis utilizes a process called enhanced combined-cycle generation to produce electricity from a traditional gas turbine generator and steam turbine generator set, and from steam produced from the hot exhaust gases from the two nearby TransCanada Mainline gas transmission compressor station turbines.
On January 20, 2015, Atlantic Power entered into an agreement with the Ontario Power Authority and its successor, the Independent Electricity System Operator (''IESO''), for the future operations of the Tunis facility. Subject to meeting certain technical modifications to the plant, gas delivery and other requirements, Tunis will operate under a 15-year agreement with the IESO commencing between November 2017 and June 2019. The new contract will require the plant to become fully dispatchable as opposed to its current baseload configuration. As such, Tunis will only provide electricity to the Ontario grid when required, thereby assisting to reduce the incidents of surplus baseload generation in the market. The new agreement provides the Tunis project with a fixed monthly payment which escalates annually according to a pre-defined formula while allowing it to earn additional energy revenues for those periods during which it is called upon to operate.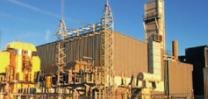 Electricity Off-Taker:
Ontario Electricity Financial Corp.
PPA Expiry: Nov 2032 (assuming Nov 2017 start of new PPA) S&P Credit Rating: AA