Piedmont Green Power, LLC owns a 55MW biomass-fired generating facility located in Barnesville, Georgia, approximately 70 miles southeast of Atlanta. Atlantic Power owns 100% of Piedmont Green Power, LLC and provides operations and maintenance of the facility. The Project achieved commercial operation in April 2013. Piedmont has a 20-year power purchase agreement with Georgia Power, which includes both capacity and energy payments. The energy revenue is based on certain indices that reflect the cost of procuring biomass fuel that are expected to largely mitigate potential biomass fuel price volatility. The Project also sells renewable energy credits on the open market.
The Project will utilize approximately 500,000 tons of woody biomass annually, consisting of urban wood waste, mill and logging residues.
Operations and maintenance services are provided by Atlantic Power.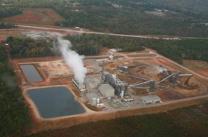 Electricity Off-Taker:
Georgia Power
PPA Expiry: 2032
S&P Credit Rating: A