The Nipigon Project is a 40 MW gas-fired enhanced combined-cycle generating facility located in Nipigon, Ontario adjacent to the TransCanada Mainline. The Project commenced commercial operation in May 1992, and sells 100% of its output to the Ontario Electricity Financial Corporation under a power purchase agreement that expires in 2022. Atlantic Power indirectly owns 100% of the Project.
The Project utilizes a process called enhanced combined-cycle generation to produce electricity from a traditional gas turbine generator and steam turbine generator set, and from steam produced from the hot exhaust gases from the two nearby TransCanada Mainline gas transmission compressor station turbines. Natural gas is provided to the facility under a long-term gas supply agreement with BP Canada Energy, that expires in December 2022.
Atlantic Power operates and manages the Project. The Project joined Atlantic Power as a result of our acquisition of Capital Power Income LP in November 2011.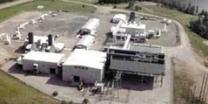 Electricity Off-Taker:
Ontario Electricity Financial Corp. PPA Expiry: 2022 S&P Credit Rating: AA